"If you can meet with Triumph and Disaster, and treat those two imposters just the same…" are the words inscribed above the entrance to Wimbledon's Center Court – one of the highest altars of sport, that a sportsperson can play in.
Boys turn into men
We saw the Indian cricket team turning into men at Melbourne towards the end of a very strange 2020. If this was some other year, we would have celebrated this as a miraculous turnaround of the kind that Indian cricket hasn't seen before. Don't get me wrong, it still is the best turnaround in a test cricket series after the 2001 India-Australia series. It's interesting to note how tired we are to heartily appreciate one more miracle this year. The happiness that this victory should give us has not been able to overcome the numbness of grief that has hit us due to the pandemic. And nor is it meant to be that way. This is more to be treated like a small commercial break in the midst of a long tragic movie. Maybe that's how the world is looking at this series.
After slumping to the lowest ever total in Indian test cricket history, the team bounced back to deliver a comprehensive victory against the Australians on Australian soil. To put this in perspective, over the last 40+ years, India has won only 8 test matches in Australia. In a very crude way, being a slave of averages, let me say that we have been able to earn a victory once every 5 to 6 years. Australia has traditionally been one of the big daddies of cricket in terms of being undefeated on their soil. So, most experts and fans (apart from some staunch Nationalists) predicted that this series was all but gone 4-0 after the 36 allout. And there was this added complication that the top run scorer of the first test and the captain was returning home for the birth of his child and wouldn't be available for the rest of the series. Plagued with injuries, India were not even going to be able to field their first choice XI for this test match. If there was a bookmaker, the odds would be stacked 10 to 1 or 20 to 1 against India. It was set up to be a contest where India were the proverbial sitting ducks and Australia their usual ruthless selves bowling bouncers at #11 batsmen breaking their bones and pumping their fists in gleeful delight.
The IPL effect
How did India really achieve this turnaround? We aren't known to be a team with such resilience. Even the staunch Nationalist supporters would say that look we may still lose the series, but we will put up a fight. I am sure what transpired wasn't a possibility even in their wildest dreams. More than a turnaround it appeared like we were coming off a magnificent victory behind us. The confidence was there to be seen. It's a rare breed of confidence that has been built into the dna of these players where they mentally dissociate from the results of the previous game. No prizes for guessing where they learn this skill! When you come off a rigorous two month tournament where you keep playing a match every second or third day, you cannot afford to carry the baggage from one match to the other. This baggage carrying business is not easy because it happens on its own. It is a skill to drop the baggage and move into the next match without being affected by the previous result too much. And since it is a skill, it can be learnt too. And like any other skill, the more you practice it the better you get at it. The IPL has trained these players to learn this all important skill of forgetting the previous match altogether and entering the next match afresh. And this has been the key in helping the team approach the Melbourne Boxing Day test match with a completely new mindset.
Virat's baby: A Blessing in disguise to the Indian cricket team
The captain had to go back home. Many consider it a sad thing. I would too, to the extent that our batting suffers because of his departure. I have been a vociferous critic of his captaincy. I find his captaincy to be lacking in many areas.
The prime lacuna being his evident inability to stay calm even in relatively frequently occurring situations of a standard cricket match. For example, a missed direct hit by someone inside the circle off a quick single and you will see Virat react as if someone has dropped their newborn on to the ground just after delivery. I hope he doesn't do any of that when his baby is given to him! As a captain, I expect him to retain a certain equanimity on the field. I am not expecting him to be Dhoniesque in calmness, but nor do I want to see him react to every micro incident on the field.
I don't understand about his style of captaincy. He stands on the boundary during critical overs. I agree he is among our best fielders on the rope (notwithstanding a worrying recent trend of dropping dollies inside the circle) and we need him there. But my question is this: when you are bowling a debut bowler, would you – as a captain – like to stand near him on mid-on or mid-off and talk him through his first over? Or would you just go and strengthen the boundary line for him? The other thought could be that as he has been picked to play at the international level, he has all the required characteristics to perform and hence we continue with business as usual. I feel he doesn't talk to the bowlers enough on the field apart from giving them directions. He doesn't listen to them. Go stand inside the circle and listen to your bowlers – how tough is that?! I believe it's a core aspect of captaincy. Virat is rarely seen doing it.
Virat appears a little lost when the other senior players are absent from the playing XI. For example, without an MSD or a Rohit Sharma or even a Shikhar Dhawan/ Ajinkya Rahane/ R. Ashwin, Virat has always been found wanting when critical decisions were to be made. This can also be perceived as a good thing that Virat listens to a group of trusted advisors on the field. And it is! But when you drop all these players and have a lack of experience on the field, what is the quality of your decisions? In my experience of watching him captain, the answer to that question is that the decisions have been consistently bad. And there is no situational thinking – for example, sending MSD at #7 in the WC 2019 semifinal. What was he thinking?! When you lose 3 wickets in half an hour, don't you send your best to stop the collapse immediately? I have many such questions. Fundamentally, his quality of decision-making is worse with the next level seniors not in the team.
And hence, it was a blessing in disguise that Virat Kohli was becoming a father and he prioritized that being around for that moment was more important than being on the boundary rope in Melbourne. Also, how soon do you think Anushka can produce another one? There is an Indian tour of England coming up in Aug-Sept of 2021. Just saying! 😉

Ajinkya Rahane: A player hardened by failure and injustice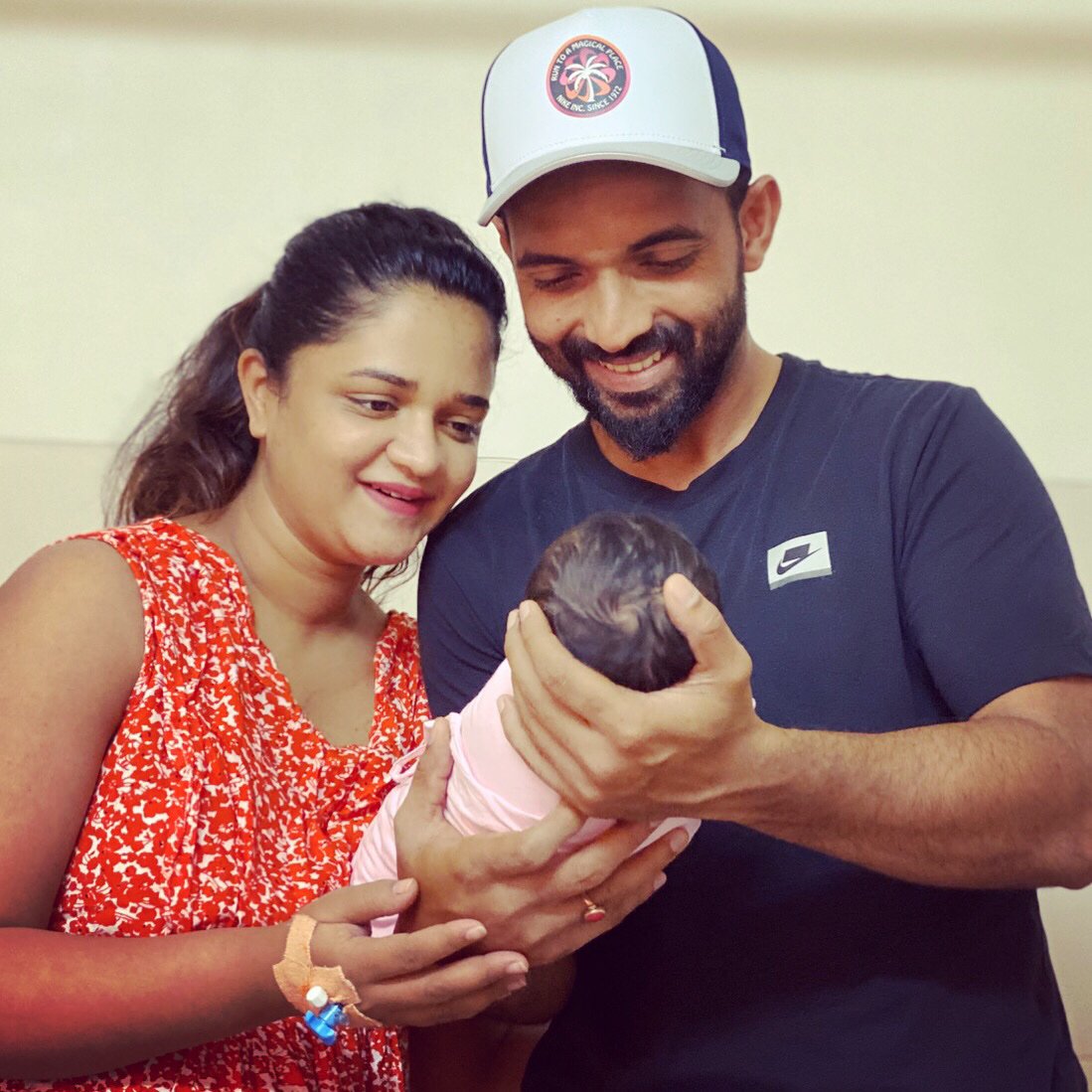 Rahane became a father on October 7th, 2019. So, he may not be going back anytime soon I am guessing (the first birthday is also over!). And that's good for us. As a player, Rahane was traveling with the Indian test squad since November 2011. Despite having been prolific at the List A level, he couldn't find a place in the playing XI till 2013 when Shikhar Dhawan got injured. When Rahane took the field in the Feroze shah Kotla Test in 2013 (before the magnificent legendary cricketer Arun Jaitley's statue was put up!), he was the first test player from Mumbai to represent India since May 2007 (Romesh Powar was the last one from Mumbai to debut against Bangladesh in Chittagong). It is possible that MSD didn't quite like him and he wasn't in the coterie of players that MSD chose.
After going through this long tenure, Ajinkya Rahane knows how to value his position in the team after having to carry drinks for long enough. After initial hiccups, he has become one of our most prolific run-getters on overseas soil. In fact so much that the man he replaced – Shikhar Dhawan – has played only 34 tests for India since then while Rahane has played 67. Does this say something about how Rahane holds on to opportunities that come his way?
In this series, Rahane had to step up to take over from Kohli after the most humiliating innings of batting in India's cricketing history. This isn't new to Rahane. From carrying drinks for almost 2 years to becoming the Indian captain, he is a person who has experienced enough circumstances to know that anything can be overcome. Rahane made his changes – brought in Shubman Gill (in the place of the young Shaw), Mohammad Siraj (in the place of injured Shami), Ravindra Jadeja (in place of Virat Kohli), and Rishabh Pant (to replace Wriddhiman Saha). Except for the last replacement, I was happy with the rest of the changes. And to be fair, Pant played a key support innings during Rahane's century in the first innings.

Rahane – adding calmness, stability, and self belief to taste
The 15-member test squad we have selected for this tour is based on a number of parameters. If you just tweak the parameters by a wee bit, you can pick an entirely different set of 15 players who will be as good as the ones we already have and they can beat Australia or anybody else with equal conviction. With this overwhelming talent pool available, we had to find the right set of leadership qualities to steer them into the direction of dominating world cricket a la the West Indians of the 70's and 80's and the Australians of 90's and 2000's. This team is in that league in terms of talent on paper. Comparatively, the other teams on the horizon aren't as strong either. So, we should be consistently stamping our dominating authority on all the teams across all the formats that we play in. In my opinion, the bottleneck for this kind of domination is usually the leader of the team and the qualities he brings to the table.
Virat Kohli isn't yet that leader. Am I saying he cannot be that leader? No. I believe he has some distance to cover in terms of understanding players, their cultures and backgrounds, and subsequently including them in his plans to make this team that dominating world beater. For this, you need to have experienced significant failure already. Which is why a Rahane or a Rohit Sharma make for better leaders in their respective styles. These players have seen the lows of cricketing lifecycle and understand how each player feels in the lifecycle of their stint with the Indian team. They are able to relate to each player other than using brute force methods to pep them up. Virat is yet to undergo this. Somehow despite failing to win a single title for RCB for over 10 years, he still hasn't figured the way to get out of choking at important matches. I feel we need to give Virat a break to figure things out and then come back to see if he can help us dominate. Else, I would prefer a captain with a low profile who can help players blossom and dominate the stage of world cricket which we have the talent to. And this is the right time to do so. Else, we will again descend into mediocrity of the late 1990's.
Rahane brought in a sense of calm assurance to the players, as Ashwin said during the post-match conference, that things can be done despite small things going wrong here and there. Rahane isn't that super genius that does things that are deemed unattainable even before he has done them. Virat has attained that position with some unbelievable level of hard work, sincerity and dedication. It could be that other players believe that this level of effort is not possible by them. And hence, Rahane makes it all believable. This belief in oneself brings stability to the team because then each player can now lean on the other one and that's how interdependence makes for a strong team.
I have been cooking for the past few months and I hope you will indulge me in a cooking metaphor. Let's say you are making sambar. You have sourced the perfect vegetables and the best sambar powder available. And then while making the sambar you add all the ingredients perfectly but have the flame on at a level higher than it should be. And you intentionally leave out salt because hey to each his own taste and hence let them add salt to suit their own taste (I will go and stand near boundary irrespective of the situation!). Despite having all the necessary ingredients and knowing the perfect process, you could still end up with a sambar that's probably not upto the mark.
Rahane adds calmness, stability and self-belief to taste to complete this Indian cricket team's requirement to dominate the world stage in test cricket. I hope we give him a longer rope with captaincy, even if we face a few defeats in the future, and ensure that Virat Kohli has a break to think about captaincy and get back to it with renewed vigor. Best wishes to him as he awaits his much awaited promotion to fatherhood! As an Indian cricket fan, I am most hopeful of seeing an India emerge from this series that earns the belief in themselves to dominate the world.